ACCESSIBILITY
Zoo Access for All
The Red River Zoo's "Zoo Access for All" program is designed to encourage families and individuals of all backgrounds to visit our world-class organization to build lifelong and multi-generational memories. We are committed to inspiring every visitor with wildlife every day, and we believe everyone should have the opportunity to experience and cultivate a positive connection to wildlife and wild places.  We seek to include all members of our community regardless of economic status or other limiting factors.
Please see below for our resources, policies, and tips to make your Zoo visit as fun and comfortable as possible.
SNAP/EBT Program
Show your food assistance card – SNAP (Supplemental Nutrition Assistance Program) – to receive discounted tickets or a Membership through the Zoo Access for All program. You must have a valid SNAP card and photo ID to purchase tickets or apply for a membership. Must be purchased in person at the Zoo.
General Admission Ticket Prices
Adults – $4
Child – $2
Membership Pricing
Household Membership – $30
SNAP cards from any state accepted. This is the only membership offered through this program. Discount cannot be applied to previously purchased memberships. Membership can be purchased at Zoo, and are not available by phone or online. E-mail [email protected] if you have additional questions.
We do not accept the P-EBT, Medicaid, or WIC cards for the program.
Sensory Sensitivity
The Red River Zoo has partnered with the North Dakota Autism Center to improve the Zoo's ability to assist and accomodate guests with sensory processing needs.  The objective is to provide an inclusive and seamless experience for every guest, regardless of age and ability, including those with sensory processing disorders (SPDs.)
Staff Assistance

Should you need assistance at any time during your visit, Zoo staff can be identified by their blue staff shirts and they can assist you.

Sensory Bags

Sensory bags containing fidget tools, noise-canceling headphones and other resources, are available for checkout at the Zoo admission desk.

Sensory Story

The team at the Red River Zoo has developed a Sensory Story to help you prepare for your visit. It can be downloaded below.

Quiet Zones

The Zoo has areas that typically have less activity.

The Asian Garden
The Discovery Barn
The Mommy Pod
Takin Ridge

Headphone Zones

The Zoo has areas that are noisy and where guests tend to congregate.

The Admissions building
The Carousel Pavilion
The Zoo Farm Interpretive Center

Holiday Seasons

The Zoo is decorated from mid-October to early-January for the holidays.  These decorations include lights that twinkle, loud music, and changes to our normal environment.

Staff Training

Another aspect of our partnership with the North Dakota Autism Center involves annual training for Zoo staff members to increase understanding of SPDs, informing them about the efforts the Red River Zoo is making to better serve the community and to discuss strategies each department can implement to support this initiative.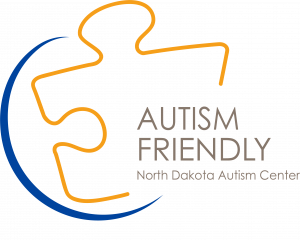 Service Animals
Only working Service Animals, in accordance with the American with Disabilities Act (ADA), are allowed at the Zoo. Under the ADA, "a service animal is a dog that has been individually trained to work or perform tasks for assisting a person with a disability." Service dogs are working animals, not pets. Dogs whose sole function is to provide comfort or emotional support do not qualify as service animals under the ADA. Pets, comfort animals, emotional support or therapy animals are not permitted at the Zoo.
Upon arrival at the Zoo, please check in with Admissions so a guest services team member can review some logistical items with you. Guest/handler for the service dog is solely responsible for the care and control of their animal*. Thank you for your cooperation to ensure a safe and successful visit for yourself, your service dog, the animals cared for at the Zoo, and other Zoo guests.
*As stipulated by the ADA, Zoo staff may request that a service dog experiencing difficulty or demonstrating problematic behaviors, such as barking or lunging, be removed from the Zoo immediately. We ask that you promptly comply with any such request for the safety and welfare of all.
Wheelchairs
The Red River Zoo buildings and exhibits are wheelchair-accessible.
The Red River Zoo has free wheelchairs available for checkout from the admissions desk.