SHOW YOUR SUPPORT
Business Partner Program
Business Partners are a distinguished group of corporations, businesses, and entrepreneurs that help ensure the Red River Zoo's ability to connect people with nature.
Becoming a Business Partner is a meaningful way to give back to your community while providing valuable benefits to your employees, clients and company
Partner Perks
Free guest passes to distribute to clients and employees
Discounted zoo memberships for your staff
Tickets to special events
Complimentary Zoo rental (great for meetings, celebrations and client appreciation events)
Access to VIP tours for important clients and employees
The opportunity to network with other Business Partners at special invitation-only events
Advertising options at popular Zoo events (Party for the Planet and Boo at the Zoo)
Knowledge that you are helping to support a valued piece of your community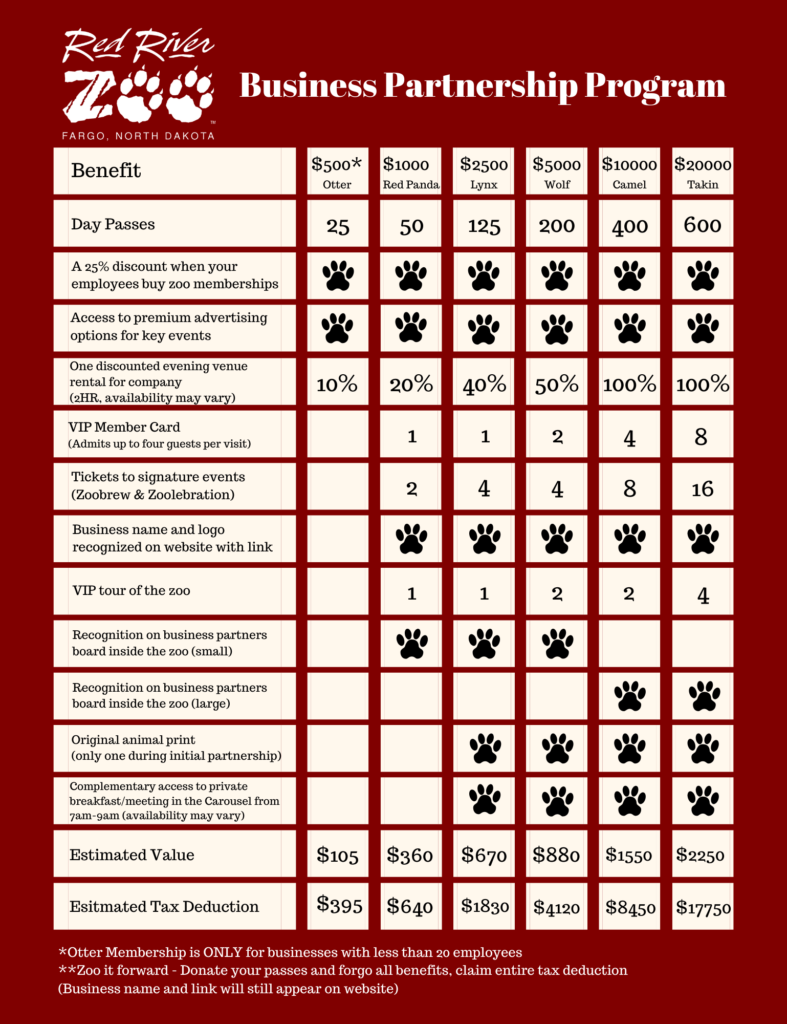 Zoo It Forward!
Red River Zoo day passes are a wonderful way to say thank you to employees or special clients. Each year, you will receive day passes. Each pass provides one adult or child admission to the zoo and is good for up to a year. You may choose to have all day passes delivered to your business or elect to participate in the Zoo it Forward program. This program allows you to donate a portion or all of your quarterly passes to the charity of your choice. The zoo will make the donation on your behalf, including a letter designating your business as the donor. It's an easy way to make an impact on the community; imagine your business sending an entire class to the zoo!
Please Support Our Generous Business Partners!